---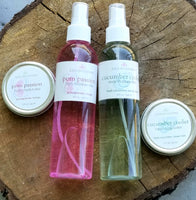 Sale
Matching butter & mist sets
Sale price $ 20.00 Regular price $ 24.00
Grab your favorite scents in both our body butter and moisture mist for a discounted price! These scented sets make a great gift.
MOISTURE MIST + BODY BUTTER  
(1) 2 oz Hand + Body butter  and matching 
(1) 8 oz Moisture Mist body spray.
Cinnapple Bliss (seasonal) Red Fuji apples, hints of bergamot and peach and shaved cinnamon bark come together to celebrate the fragrant change of seasons. Woodsy base notes of fir and balsam help to add a little warmth to this wintery masterpiece.
Flirty Feels is our top seller. A sexy blend of Juicy Peach, Cherry Blossom and White Jasmine that smells absolutely flirty & delicious. Fruity and fragrant, with a mild floral trail, what's not to love? 
Fruit Smoothie is a juicy blend of mixed berries, sweet mango, ripe orange and tangy pineapple. It has a Caribbean allure and delights the senses with the colorful fruits of the islands.
Makin' Waves is a favorite among him, her, them... It has marine and citrus notes with a light musky trail. Oak Moss Cedar, Jasmine, White Musk, Neroli and Orange are the main oils used to create this sexy, indulgent, aquatic scent.
Om Calm is a universally adored scent graced with Lavender and German chamomile and a dash of warm vanilla for a soothing, chill aromatherapy vibe.
Pom Passion (seasonal)  Juicy pomegranate, ripe mangos and a twist of citrus come together for a sexy, fruity, fun fragrance that transports your senses to a tropical place. Hints of vanilla create depth and make this scent one you wont want to overlook!
Warm Vanilla Sky Toasted sugar and warm toasted vanilla combine in this throwback scent. Hints of purple heliotrope, coconut rice and light musk lend a sexy allure and invoke sultry, full bodied vibes.
*Cocofusions never sells or shares your information with any third parties.
*Please allow 3-8 days for arrival. (US) and up to 14 days internationally.
*If you have an issue with a product, we will gladly issue you a store credit (good for 6 months) within 30 days of purchase. 
*Damaged or otherwise unfit products are eligible for refund within 14 days from receipt.
email concerns to: cocofusions@gmail.com 
*Many of our products contain coconut oil, which can liquefy at about 75*. We do use stabilizers like beeswax and butters to maintain integrity but we cannot predict hot weather and/or conditions during transit.
*When ordering balms, salves and butters, we ask that you choose a delivery address that does not allow the package to sit out in the hot sun for extended periods.
*Products are all natural and do not contain harsh preservatives.
*Shelf life is usually 8-10 months, with the exception of some our balms, sprays and oils that last for over one year.
*Keeping products free of contaminants and water in a cool dry environment out of sunlight will extend their shelf life.
*We use essential oils.