---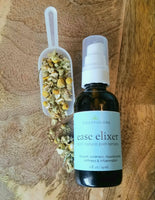 Sale
Ease Elixir, topical pain relief oil
Sale price $ 12.00 Regular price $ 14.00
All of us experience pain sometimes. Different conditions and aging itself, can cause lots of various aches and pains throughout our bodies. Hands & feet, legs and lower back are a few we hear about the most.
Over the counter medicines and prescription drugs can work to alleviate symptoms but many times to the detriment of our internal systems and organs over time. Thankfully, essential oils, plant and flower extracts and herbal infusions are nature's gift to us for healing and well-being. Not only do they contain the magic that we seek to alleviate our symptoms, but they are also safely absorbed into the skin and offer a host of other benefits. 
Much of the pain and discomfort we feel can be alleviated topically with a combination of specific plants and flowers. The cause of most pain, is inflammation...so we chose several ingredients such as flax oil, chamomile, lavender and lemongrass to synergistically combat that.
We also added oils of Peppermint, Rosemary and Clove because of their antispasmodic and circulatory properties for muscle cramps, spasms and joint pain. With regular use, this elixir can help with muscle aches, stiffness, soreness and inflammation. (2 oz amber glass bottle with pump)
Directions: Pump several times into palm, warm between hands and rub into the affected area of the body for 2 to 3 minutes. Apply 2-3 times per day as needed to soothe symptoms. 6-8 pumps may also be added to bathwater. **** Check with your doctor before use if you are pregnant, nursing or taking medications.
Ingredients: Chamomile infused Grapeseed oil, Lavender infused Flax seed oil, fractionated coconut oil, essential oils of Clary Sage, Rosemary, Peppermint, Lemongrass, Clove, Vitamin E (essential oil concentration of 3%)
**Results vary. As with all Homeopathy, you need to employ a lot of diligence and a little patience for desired outcomes...give this a few days of consecutive, continued use to reap its full benefits. This product has not been evaluated nor approved by the FDA, and is not intended to treat, diagnose or cure any disease. This information is anecdotal, and is provided for educational purposes only. See a health care professional for medical advice.
*Cocofusions never sells or shares your information with any third parties.
*Please allow 3-8 days for arrival. (US) and up to 14 days internationally.
*If you have an issue with a product, we will gladly issue you a store credit (good for 6 months) within 30 days of purchase. 
*Damaged or otherwise unfit products are eligible for refund within 14 days from receipt.
email concerns to: cocofusions@gmail.com 
*Many of our products contain coconut oil, which can liquefy at about 75*. We do use stabilizers like beeswax and butters to maintain integrity but we cannot predict hot weather and/or conditions during transit.
*When ordering balms, salves and butters, we ask that you choose a delivery address that does not allow the package to sit out in the hot sun for extended periods.
*Products are all natural and do not contain harsh preservatives.
*Shelf life is usually 8-10 months, with the exception of some our balms, sprays and oils that last for over one year.
*Keeping products free of contaminants and water in a cool dry environment out of sunlight will extend their shelf life.
*We use essential oils.