---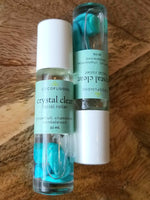 Crystal Clear, natural blemish roller
Say goodbye to pesky pimples and annoying breakouts with this handy crystal roller. Whether it's frequent pimples, hormonal blemishes or just an occasional breakout-this simple, yet effective formulation of healing and essential oils tackles bacteria, soothes irritation and reduces redness and swelling overnight. Clear skin is easy with nature on your side. 
Crystal Clear makes a great self-care tool for all ages.
*Evening Primrose oil is a miracle oil containing gamma-linolenic acid, an omega-6 essential fatty acid that helps strengthen the skin barrier, reduces moisture loss, and causes the anti-inflammatory effects that can calm some of the lesions associated with breakouts 
*Pink Grapefruit awakens the senses, and provides some pretty powerful antimicrobial properties as it shrinks blemishes into virtual non-existence.
*Australian Sandalwood lends it's magic for smooth skin and acts as a gentle antiseptic, helping to dry out breakouts.
*Roman Chamomile soothes, calms and eliminates redness and inflammation.
*Vitamin E promotes healing and reduces chances of scarring.
Clear quartz lines the bottle, as energetically, it amplifies the healing power and intentions of the other ingredients. We also added turquoise, a master healer, touted for it's anti-inflammatory properties, as it promotes hormonal harmony and tissue growth. All rollers with their healing crystals are left to bask in the sunlight, then bathe in the moonlight for 24 hours- to cleanse and activate the stones.
10 ml bottle with metal roller ball (feels cooling to the touch.
Ingredients: fractionated coconut oil, turquoise crystals, quartz crystals, organic evening primrose oil, pink grapefruit essential oil, australian sandalwood, roman chamomile, vitamin e. 
Directions: Wash face as usual prior to application for best results. Roll a small amount of oil onto affected areas 1-2 times daily, am and pm until clear. Allow to absorb, then apply other products if you wish.
This information is anecdotal and our product- like most essential oil products, has not been approved nor evaluated by the FDA. Essential oils are not intended to treat cure or prevent any disease, please consult your doctor if you feel you are experiencing something serious.
*Cocofusions never sells or shares your information with any third parties.
*Please allow 3-8 days for arrival. (US) and up to 14 days internationally.
*If you have an issue with a product, we will gladly issue you a store credit (good for 6 months) within 30 days of purchase. 
*Damaged or otherwise unfit products are eligible for refund within 14 days from receipt.
email concerns to: cocofusions@gmail.com 
*Many of our products contain coconut oil, which can liquefy at about 75*. We do use stabilizers like beeswax and butters to maintain integrity but we cannot predict hot weather and/or conditions during transit.
*When ordering balms, salves and butters, we ask that you choose a delivery address that does not allow the package to sit out in the hot sun for extended periods.
*Products are all natural and do not contain harsh preservatives.
*Shelf life is usually 8-10 months, with the exception of some our balms, sprays and oils that last for over one year.
*Keeping products free of contaminants and water in a cool dry environment out of sunlight will extend their shelf life.
*We use essential oils.