---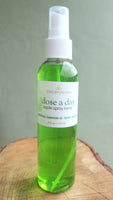 Dose A Day, Apple Spray Toner
Dose A Day apple spray toner is a natural, leave on, pore toning and purifying mist.
Apple cider vinegar provides a host of skin  benefits while flower hydrosols nourish and calm inflammation. Witch hazel is added as a powerful astringent. We love adding vegetable glycerin to products for its skin softening and moisturizing properties. A little apple essence provides a crisp finish!

This light, moisturizing, feel good, sanitizing mist will keep your face happy! A great acne fighting refresher by day and an excellent finishing, toning mist before bed. Great for teens too!
(6 oz fine mist spray) 
Ingredients: rosewater, witch hazel, distilled water, grain alcohol, vegetable glycerin, unfiltered apple cider vinegar, natural apple essence, fractionated coconut oil, green vegetable color, colloidal silver.
Directions: Hold 6 inches away and spray liberally onto face and neck keeping eyes closed. Wipe with a cotton ball, or simply allow to penetrate and dry before using other products or applying makeup. Use am and pm after you wash your face.
**Because this product contains apple cider vinegar and rosewater, it has a shelf life of about 8 months. However, if you're using it regularly, as intended, it should last you about 60 to 90 days. Refrigerate to extend shelf life and to add a cooling finish to this already awesome toner!
*Cocofusions never sells or shares your information with any third parties.
*Please allow 3-8 days for arrival. (US) and up to 14 days internationally.
*If you have an issue with a product, we will gladly issue you a store credit (good for 6 months) within 30 days of purchase. 
*Damaged or otherwise unfit products are eligible for refund within 14 days from receipt.
email concerns to: cocofusions@gmail.com 
*Many of our products contain coconut oil, which can liquefy at about 75*. We do use stabilizers like beeswax and butters to maintain integrity but we cannot predict hot weather and/or conditions during transit.
*When ordering balms, salves and butters, we ask that you choose a delivery address that does not allow the package to sit out in the hot sun for extended periods.
*Products are all natural and do not contain harsh preservatives.
*Shelf life is usually 8-10 months, with the exception of some our balms, sprays and oils that last for over one year.
*Keeping products free of contaminants and water in a cool dry environment out of sunlight will extend their shelf life.
*We use essential oils.