---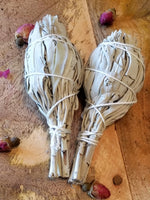 Double Sage bundle
Sage has been used by many cultures around the world starting with indigenous peoples, for thousands of years in a historical ritual known as smudging. 
Poor air quality may be linked to various health conditions. Burning sage is seen as a unique way to purify the air (to an extent). This is because sage is thought to have antimicrobial properties that help kill airborne bacteria, viruses, and fungi when burned. 
Some other anecdotal benefits to burning sage includes:
*improved sleep/reduced insomnia
*cleareing negativity and bad vibes
*removing bacteria from the air
*reducing allergy symptoms 
*repelling insects
*improving intuition
*purifying specific objects including natural crystals
*improving mood, reducing stress and anxiety
Our bundles are made with soft, high quality white sage (salvia apiana) grown organically and harvested ethically in California. 
Includes 2 XL 4", torch style white sage bundles, bound with cotton twine.
Directions: Light sage bundle until firey, then blow out and allow the herb's smoke to fill the air. (If it keeps going out, very carefully and cautiously try lighting it upside down.) Start at the front door of the home and begin to move around the home. Move mindfully and with care, walking clockwise around the entire perimeter of the home. Be sure to allow the smoke to drift into each room, even the hidden spaces, like closets, basements and corners. A few minutes of smudging is sufficient. Put bundle out in an ashtray or seashell, until next use. We recommend smudging daily, minimum 3 times per week.
This information is anecdotal and this product has not been evaluated or approved by the FDA. Sage bundles are not intended to prevent, treat or cure disease. Always consult your doctor before inhaling smoke if you have respiratory problems.
Warning: burning sage or other herbs will create smoke, which in itself, may cause health problems for individuals who are prone to asthma and respiratory conditions.
*Cocofusions never sells or shares your information with any third parties.
*Please allow 3-8 days for arrival. (US) and up to 14 days internationally.
*If you have an issue with a product, we will gladly issue you a store credit (good for 6 months) within 30 days of purchase. 
*Damaged or otherwise unfit products are eligible for refund within 14 days from receipt.
email concerns to: cocofusions@gmail.com 
*Many of our products contain coconut oil, which can liquefy at about 75*. We do use stabilizers like beeswax and butters to maintain integrity but we cannot predict hot weather and/or conditions during transit.
*When ordering balms, salves and butters, we ask that you choose a delivery address that does not allow the package to sit out in the hot sun for extended periods.
*Products are all natural and do not contain harsh preservatives.
*Shelf life is usually 8-10 months, with the exception of some our balms, sprays and oils that last for over one year.
*Keeping products free of contaminants and water in a cool dry environment out of sunlight will extend their shelf life.
*We use essential oils.