---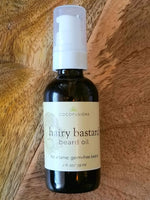 Hairy Bastard beard oil
Our goal with this manscaping product is simple: keep the beard soft and germ-free.
A sleek blend of oils including Coconut oil, Castor oil, Grapeseed oil and Vitamin E come together to support a healthy beard.
Tea Tree, Eucalyptus, Clove, Peppermint and Sweet Orange essential oils are added to create a softening, antifungal, antibacterial beard maintenance oil. Hairy Bastard has a subtle, clean, masculine fragrance. It allows beards of any length to grow healthy, strong and become less dull. Conditioning and fast absorbing, this lightweight oil controls wild wiry hairs, and will improve coarse textures with continued use. Let's face it, everybody loves a Hairy Bastard... As long as he's well maintained.
2 oz amber glass pump bottle
Directions: Pump 1-4 times into palm (depending on beard length) and warm between hands, work through beard. Leave in. Apply 1-2 times daily.
Ingredients: Grapeseed oil, Fractionated coconut oil, Sunflower oil, Castor oil, Olive oil, Vitamin E, Eucalyptus, Tea Tree, Peppermint, Sweet Orange and Clove essential oils, Vitamin E. 
*Cocofusions never sells or shares your information with any third parties.
*Please allow 3-8 days for arrival. (US) and up to 14 days internationally.
*If you have an issue with a product, we will gladly issue you a store credit (good for 6 months) within 30 days of purchase. 
*Damaged or otherwise unfit products are eligible for refund within 14 days from receipt.
email concerns to: cocofusions@gmail.com 
*Many of our products contain coconut oil, which can liquefy at about 75*. We do use stabilizers like beeswax and butters to maintain integrity but we cannot predict hot weather and/or conditions during transit.
*When ordering balms, salves and butters, we ask that you choose a delivery address that does not allow the package to sit out in the hot sun for extended periods.
*Products are all natural and do not contain harsh preservatives.
*Shelf life is usually 8-10 months, with the exception of some our balms, sprays and oils that last for over one year.
*Keeping products free of contaminants and water in a cool dry environment out of sunlight will extend their shelf life.
*We use essential oils.