---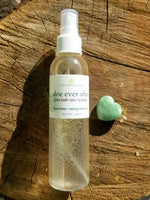 Aloe Ever After- all-over skin hydrator
This skin hydrating, after bath mist offers a light, refreshing dose of moisture. Orange blossom water and aloe vera juice combine to soothe and and soften skin. A dash of coconut oil, vitamin e and witch hazel leave your body feeling smooth, extra soft, and deodorized.
Natural, healing ingredients moisturize, tighten pores and kill any residual germs while pampering your skin in the most beneficial ways. Use as often as needed for hydrated, smooth, glowing skin. 
Ingredients: Orange blossom water, Distilled water, Aloe juice, Grain alcohol, Witch hazel, fractionated coconut oil, Vitamin E, natural phthalate free cucumber and melon fragrance oils, Grapefruit Seed extract. 6 oz
Directions: Shake well before each use. Spray liberally all over body after bath or shower, or anytime you want a little added freshness and moisture. May be used on face and/or intimate areas. *avoid eyes
*Cocofusions never sells or shares your information with any third parties.
*Please allow 3-8 days for arrival. (US) and up to 14 days internationally.
*If you have an issue with a product, we will gladly issue you a store credit (good for 6 months) within 30 days of purchase. 
*Damaged or otherwise unfit products are eligible for refund within 14 days from receipt.
email concerns to: cocofusions@gmail.com 
*Many of our products contain coconut oil, which can liquefy at about 75*. We do use stabilizers like beeswax and butters to maintain integrity but we cannot predict hot weather and/or conditions during transit.
*When ordering balms, salves and butters, we ask that you choose a delivery address that does not allow the package to sit out in the hot sun for extended periods.
*Products are all natural and do not contain harsh preservatives.
*Shelf life is usually 8-10 months, with the exception of some our balms, sprays and oils that last for over one year.
*Keeping products free of contaminants and water in a cool dry environment out of sunlight will extend their shelf life.
*We use essential oils.