---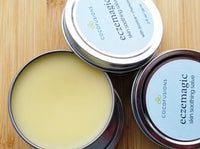 Eczemagic herbal skin salve
We've employed nature's best to calm inflamed skin, soothe itchiness and eliminate irritation and burning caused by various skin triggers and conditions.
Organic handmade licorice root oil and calendula infused jojoba oil give this soothing salve it's magic. Hailed for treating everything from psoriasis to atopic dermatitis, one of licorice's components, glabridin, is a potent antioxidant with powerful skin soothing qualities.
Calming calendula flowers steeped for six weeks in jojoba oil create a potent anti-inflammatory with unrivalled healing properties. We also added sweet almond oil for its high levels of fatty acids. It has been used for centuries to treat chronic skin conditions such as psoriasis and eczema. 
Our formula is ultra moisturizing, fast absorbing, safe for face, scalp and body. Eczemagic has all you need to heal naturally and improve both symptoms and the appearance & texture of your largest organ, your skin! 
2 oz screw top tin
Directions: Apply a thin layer to affected areas one to two times daily to calm and soothe the skin. Regular use promotes and supports the body's own natural healing process. 
Ingredients: organic sunflower oil, liquid coconut oil, organic beeswax, licorice root oil, castor oil, calendula infused jojoba oil, almond oil, vitamin e, chamomile essential oil, geranium essential oil, cedarwood essential oil
*This product contains a 2% concentration of a essential oils as well as almond oil, which may produce allergies in those with nut allergies. Please consult your doctor prior to use if you are currently using other medications, nursing or pregnant.
A patch test is recommended on the inner arm or thigh for those with possible allergy concerns. Apply a small amount and wait overnight, if no redness or irritation occurs you are good to go! If it does, do not use and email us!
*Cocofusions never sells or shares your information with any third parties.
*Please allow 3-8 days for arrival. (US) and up to 14 days internationally.
*If you have an issue with a product, we will gladly issue you a store credit (good for 6 months) within 30 days of purchase. 
*Damaged or otherwise unfit products are eligible for refund within 14 days from receipt.
email concerns to: cocofusions@gmail.com 
*Many of our products contain coconut oil, which can liquefy at about 75*. We do use stabilizers like beeswax and butters to maintain integrity but we cannot predict hot weather and/or conditions during transit.
*When ordering balms, salves and butters, we ask that you choose a delivery address that does not allow the package to sit out in the hot sun for extended periods.
*Products are all natural and do not contain harsh preservatives.
*Shelf life is usually 8-10 months, with the exception of some our balms, sprays and oils that last for over one year.
*Keeping products free of contaminants and water in a cool dry environment out of sunlight will extend their shelf life.
*We use essential oils.