---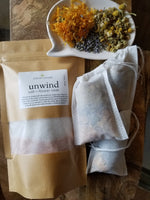 Sale
Unwind, salt + flower bath soak
Sale price $ 14.00 Regular price $ 16.00
New XL salt pack with 3 bath sachets!
Relax your tired muscles, ease tensions and reduce pain and inflammation in your body with this fragrant combination of Pink Himalayan salt, Italian sea salt and a blend of therapeutic flowers. Let the stress melt into a warm bath surrounded by the magic healing powers of the ocean and mother nature.
Our organic, all cotton bath sachets are layered with Chamomile, Roses and Lavender flowers for a soothing, pain relieving, skin nourishing bath experience. This combination of flowers is also effective in calming skin conditions, soothing itchiness & irritation and reducing redness.
Sea salt and pink salt detox skin, relieve muscle tension and impart your body with dozens of trace minerals for boosted energy aligned with the Earth.
Cocofusions Unwind is the perfect bathtime treat for an amazing nights rest and sweet dreams.
(3) cotton, floral sachets + (1) 11 oz salt pouch included.
Directions: Run one floral sachet under hot running water as you fill the tub, then toss it in. You may gently press the sachet but do not wring. Next, add and dissolve 1/3 the salt packet into the water and enjoy the sweet serenity. Use as often as you like. 
Ingredients: Organic Chamomile flowers, Organic Lavender buds, Organic Roses in cotton sachets. Pink Himalayan rock salt and Italian Sea salt with lavender essential oil in paper ziplock pouch. 
*Cocofusions never sells or shares your information with any third parties.
*Please allow 3-8 days for arrival. (US) and up to 14 days internationally.
*If you have an issue with a product, we will gladly issue you a store credit (good for 6 months) within 30 days of purchase. 
*Damaged or otherwise unfit products are eligible for refund within 14 days from receipt.
email concerns to: cocofusions@gmail.com 
*Many of our products contain coconut oil, which can liquefy at about 75*. We do use stabilizers like beeswax and butters to maintain integrity but we cannot predict hot weather and/or conditions during transit.
*When ordering balms, salves and butters, we ask that you choose a delivery address that does not allow the package to sit out in the hot sun for extended periods.
*Products are all natural and do not contain harsh preservatives.
*Shelf life is usually 8-10 months, with the exception of some our balms, sprays and oils that last for over one year.
*Keeping products free of contaminants and water in a cool dry environment out of sunlight will extend their shelf life.
*We use essential oils.