---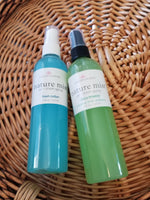 Nature Mist, Air & Linen spray
Our natural room deodorizer and bedding mists will leave your space smelling and feeling so fresh & clean. They contain ZERO harsh chemicals, propellants, unnatural dyes or preservatives and offer a much healthier airborne alternative to aerosol room refresher sprays.
These light, fresh scents and formulas effectively neutralize odors without overpowering or masking, making them perfect for the bathroom, bedding, pillows, curtains, bedroom, animal beds and the car. New Seasonal scents now available!
Cinnamon Swirl: A decadent cinnamon treat doused in vanilla bean with hints of spicy clove. A fall and holiday mood!
Cranberry Cider: Tangy cranberries, soft vanilla and spicy cardamom combine for a fragrant, fruity Autumn blend. Always a shop favorite for the season.
Fresh Cotton: Reminiscent of fresh laundry combined with the sultry smell after a rain. Soft, airy, light and clean.
Holiday Mood: Delight in the scents of cheer and celebration! This blend of red apples, clove, cinnamon, nutmeg and warm vanilla will have your space feeling holiday ready.
Lavender Dreams: A classic favorite, fresh French lavender with a splash of chamomile and a hint of sandalwood.
Pumpkin Spice: Decadent pumpkin pie, with hints of cinnamon, clove and nutmeg. A fragrant fall vibe your guests will delight in.
Mintalyptus: A relaxing, breath easy, spa-like mix of Eucalyptus leaves and Spearmint. 
Morning Rain: A powdery, dewy, woodsy scent- evokes a vibe as good as it sounds.
Use as often as needed for fresh smelling air and linens. Now 8 oz!
Ingredients: Distilled water, witch hazel, grain alcohol, essential and/or fragrance oils, pink Himalayan salt, colloidal silver (natural preservative), vegetable coloring.
Directions: Shake well. Spray upright overhead into your space. Hold 6 inches away from curtains and bedding and never spray onto face or near eyes.
*Cocofusions never sells or shares your information with any third parties.
*Please allow 3-8 days for arrival. (US) and up to 14 days internationally.
*If you have an issue with a product, we will gladly issue you a store credit (good for 6 months) within 30 days of purchase. 
*Damaged or otherwise unfit products are eligible for refund within 14 days from receipt.
email concerns to: cocofusions@gmail.com 
*Many of our products contain coconut oil, which can liquefy at about 75*. We do use stabilizers like beeswax and butters to maintain integrity but we cannot predict hot weather and/or conditions during transit.
*When ordering balms, salves and butters, we ask that you choose a delivery address that does not allow the package to sit out in the hot sun for extended periods.
*Products are all natural and do not contain harsh preservatives.
*Shelf life is usually 8-10 months, with the exception of some our balms, sprays and oils that last for over one year.
*Keeping products free of contaminants and water in a cool dry environment out of sunlight will extend their shelf life.
*We use essential oils.